We just love camping, whether in New Zealand, when we go camping with my sisters and their families at the Christmas holidays, or from our French house, when we head out with the little Fiat Punto piled carefully with (the rest of the world always use these these, it's only in NZ where we don't have them) Ikea bags of stuff, one each for clothes and bedding, and a joint kitchen/sitting room one. There's a careful list to be checked off, but what defines camping is what you've left behind – making do because you've left the pot lid behind, or the torch battery is flat, or in our early days, the tent pegs (we've got better, it's surprising really we kept camping after that first trip). But we love particularly that you don't have to book in, the only times we've been turned away and had to travel to another town was on the French Mediterranean coast in the absolute peak of August (only once), but to be fair there was some special festival.  But normally you find something, not always your first choice but a patch for your tent, and have your own space with your own stuff and not some stuffy hotel room facing the dustbins (Although we've learned to choose our pitch carefully, examine car licence plates, Dutch are noisy, Poms try and talk to you, motorhomes have tv's going…).
But the best is the food. Campsites are out of town a bit, where real people live, so in big cities there are good markets or supermarkets, and of course we've honed our equipment, traveling with the essentials – two pots, the cast-iron grill, olive oil, herbes de Provence, salt, pepper. Then, normally while Stephen is at the swimming pool, I can go shopping, we don't have a fridge of course so it's just for that day, but it's such fun especially when we're in say Italy or Spain, you can not just look at the huge range of different pastas, but choose one for dinner. Then, find a piece (photo above, camp in the northern bit of Rome) of Parmegiano Reggiano on special, it's an offcut, so get that, it's like €2 ($3, in NZ would have been $15), and a pottle of fresh pesto, so that's the pasta course taken care of. Then there's a large cheerful man with a humungous roll of roast porchetta, selling it by the slice, so I explain to him rather tentatively that I'd like two large slices please. He's enthusiastic, and asks if it's for this evening, so I say yes, and he tells me to enjoy it with a nice bottle of red wine, kissing the tips of his fingers in a caricature of Italian jollity. (How I understood him is a mystery, I think I just guessed a few words actually).
Well that makes for a nice dinner doesn't it (there was an arugula salad and fresh peaches to follow, and of course the nice bottle of red), knocks spots of another routine restaurant and paying €20 for the nice bottle of red, well we'd already eaten in the best restaurant in the area, it was fabulous.  We'd arrived grumpy, it was late for lunch and we'd gone into low-blood sugar-grump. But the waitress, when we walked in sweating and bewildered [lost, actually], gave us menus, then arrived back in a minute with glasses of prosecco and a round of thin crispy oily crunchy bread with olives sitting on it. Things were looking up. (No photo, we ate and drank still grumpy, recovered before we thought of you).  Lunch was good though, wow.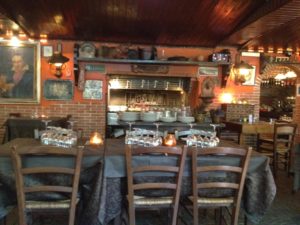 (Fritto misto di verdure, bruschetta mista)
That might make one of our best day's eating in Italy ever.